I was already in bed last night when Maria came up: "Two guys just called me. They are in the Blueberry Room." Now, mind you, you can't always do that in the busy season, say, prime time (June, July, August), but you never know – it's worth a try! It is certainly an option in May or September, or during the week – as Nathan and Stephen found. This father and son duo were touring portions of Alaska together to add more species to their bird list. Being a former wildlife biologist, I always enjoy hob-knobbing with folks who love the critters. I like to know what they are after, and if there is any way I can help. I can also learn a thing or two, like this morning: there's more than one type of Murrelet (a little fluffy sea bird that makes a splash and dives when you drive by). Ours are "Marbled Murrelets", but apparently there's another kind; I didn't know that.
Unlike one party who stayed with us yesterday, Nathan and Stephen stopped this morning to have breakfast with Maria and I – before heading out for more birding. The way Maria fed them – they didn't figure they would have to eat again till suppertime. I'm not sure if they realized it, but they put away upwards of a dozen eggs, french toast, muffins, fruit, bacon, and more. In other words, they ate like hungry men do.
I hate to sound judgmental or critical or arrogant, or anything like that – but our party of three yesterday morning missed all that, in favor of sleeping. Ok, this is how I roll: You're in Alaska on the trip of a lifetime. You experience as much as you possibly can in whatever time you have. You get the fun meter as high as it can go, and you sustain it for as long as you possibly can. You do that by eating, and getting a wink or two of sleep here an there.
You can get lots of sleep when you're dead…
After breakfast – two new mattresses arrived: one for Cabin A "Salmon Suite" and one for The Cottonwood Room. The delivery truck, a 40-foot furniture moving truck that looked more like a tractor/trailer (semi) pulled into our yard, and promptly drove into the quicksand sinkhole, or whatever you want to call it. It happens every year, and seems to be in a new place every time – where the earth turns to a sponge and when you drive on it, the earth moves around for 5-10 feet in every direction. It heaves up and down all by itself, even if it's not driven on. Well, the furniture truck couldn't get out on it's own. I told them we had one good shot at it, and then they would wind up calling a tow truck (these guys had 11 more deliveries today, a full load of furniture, and a schedule to keep). So, we dug behind the front wheels, put in some boards, attached my green beast to the rear of the furniture truck, and went like hell! Well, it worked out. Those guys looked happy to be on their way, and glad they didn't have to call the owner. Little damage was done – nothing that can't be fixed with my ATV and the drag I use to level the driveway. Wish I had a picture of the green beast towing the semi out of the mud, but my phone was not nearby. Just picture it. It's awesome!
What's also awesome is that folks who rent The Salon Suite and The Cottonwood Room will have brand spanking new bed mattresses to sleep on. We always replace one or two of them every spring – so there is fresh mattress turn-around any time any of them start to show wear. I think Maria also got some sort of table to display and welcome guests at the front door. Not at all sure, but we will see how that one develops.
Maria is downtown Homer teaching a Zumba class. I'm taking a break right now from cleaning up the front yard and parking area. The ground is frumpy and lumpy, rocks wind up on the lawn from the snow plows, things get shoved around where they don't belong, the grass dies and turns brown, the flowerbeds are full of dead- decadent stuff from last season. Winter tools need to be organized and put away. Summer things, like rakes, lawn ornaments, and garden hoses – come out. It all has to get cleaned up so it looks good for YOU, and us too!
Who likes to fish? Well, my first scouting report is that the very first King Salmon (Chinook) are coming into the local fishing hole down on the spit. How do I know? Well, a quick lap of one corner of the hole revealed blood on the rocks. That means someone caught a fish recently, likely beat it over the head and sliced the gills to bleed it out. I didn't see any fish jumping, or pushing water on the shores, but as small packs begin to arrive over the next few days, it will happen. I will attach a photo of a happy fisherman from last season – taken down at "The Fishing Hole". This was a big, beautiful King – caught by my son-in-law Michael.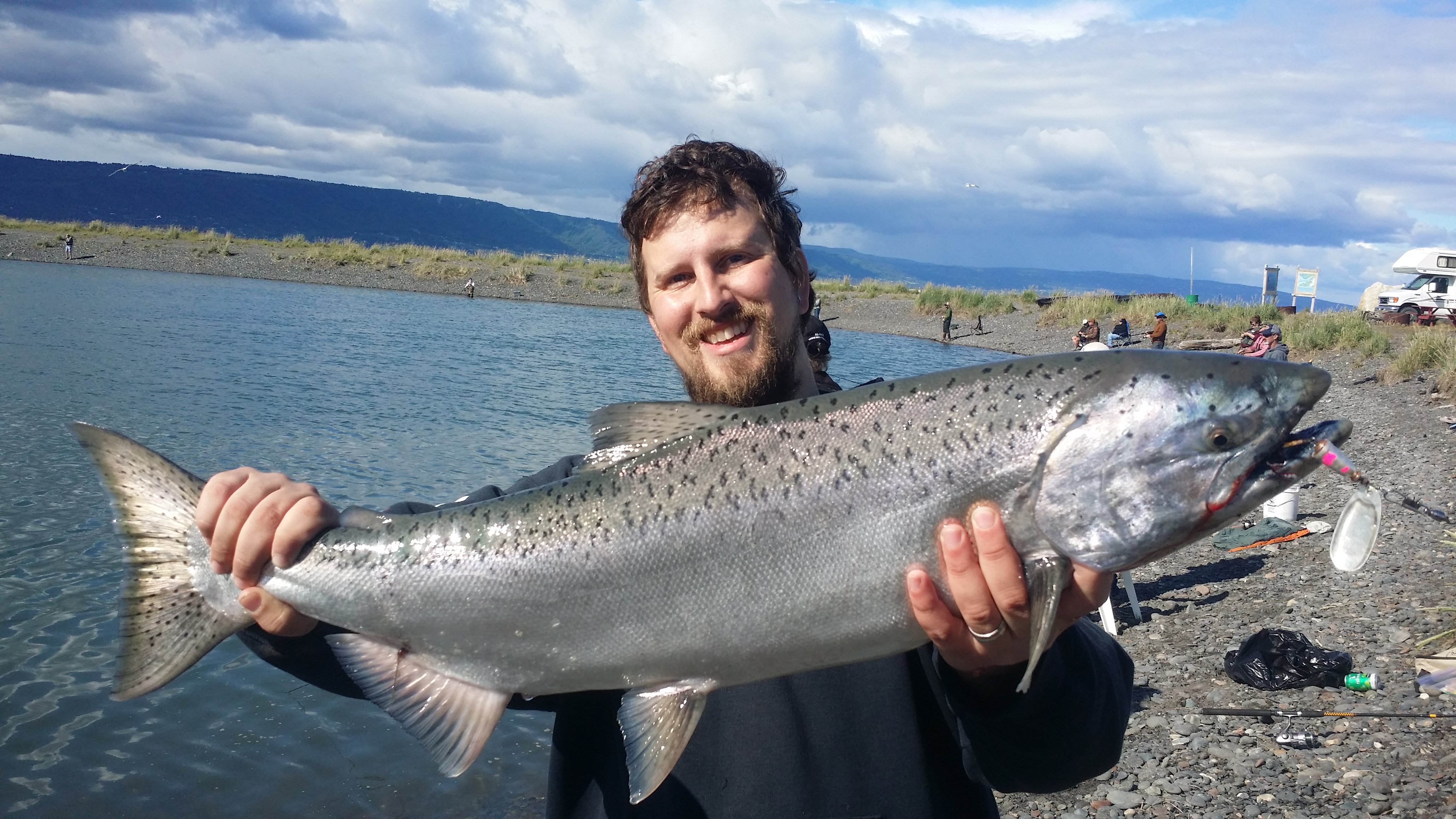 My wheel barrow has a flat tire, and needs a new tube. I gotta go fix it, get some lawn mower gas, weed trimmer line, and an extension cord. But I gotta ease into this work thing by setting boundaries. You know – pace myself. Think I feel a nap coming on 🙂