Jolly old St. Nick was here sure as shootin". And he brought his wife, Debbie, haha. Yeah, right! And he posed under the alias "Dave." I got to be really good friends with Mrs. Claus, who became a trusted confidant, and when Santa wasn't looking, she gave me this picture!
It was sort of interesting to see how Mr. and Mrs. Claus vacationed, and how they try to "fly under the radar." They arrived with an Uber, all the way from Anchorage. I'm not sure how they got to Anchorage from the North Pole. Sleighs don't land so well when there isn't snow, ya know?
"Dave and Debbie" enjoyed our Cottonwood Room – nothing too extravagant, but it is comfortable and one of our darkest rooms. They spent a lot of time in our living room area, and out on the deck – enjoying the view. Even more, they have the "gift to gab", and spent hours upon hours chatting with myself, Maria, and other guests. I think socializing is about their favorite thing. That, and eating at Captain Patties.
I also know "Dave" was Santa by his boisterous, contagious laughter. Filled with regular "HO HO HO's" and "HA HA HA's" – he literally shook the house at times. Your really never knew when it was going to happen. He laughed at himself, everyone, and everything else! I thought I was going to have to get after Santa one night, kinda late, when one particular HO HO HO made me sit up in bed. But I didn't. Get after Santa? Who does THAT???
Santa had some crazy stories about alligators and pythons in Florida, which I also believe was part of his cover. Santa does light remodeling and wood floors on the side in Florida? Ok, Whatever…
Santa gets kidney stones, just like regular people. We felt sorry for him, and grimaced with him as he spent his first two days guzzling lots and lots of water, and trying to pass the stone. Mrs. Claus went out and about and snooped about Homer while Santa rested and passed his stone. She made sure he was well taken care of before she left, and often returned home to find him sleeping. And just like any man, when Santa passed his stone, he reached down into the toilet to recover it, and had to show his trophy to me. Hey, I've been there. I feel you, Santa. I wish we had a microscope. I'm sure that stone was damn impressive.
Here's a bit of trivia. Santa really likes beer – but he doesn't drink it when he's passing stones.
One day, Santa came out of his room with a shirt on: Beard Length Scale. His beard obviously went down to the "Hippie" spot. There were lots of other characters on his beard length scale: professor, wizard, rock star… even God – but no such thing as Santa Claus. Geez – this guy went through great lengths to not be discovered. Can't say I blame him though. Think about it. Other than Jesus, who has been a worldwide celebrity for this long? Incogneto is the only way…
One day, I took Santa, and Mrs. Claus fishing. I enjoyed Mrs. Claus's competitive nature. At one point, she would ever so slightly complain that she was "on the wrong side of the boat" when Mr. Claus caught a fish. Then, it wasn't long, and she would catch a fish. I've seen it over and over. When all else fails, just good natured-ly complain, just a little, and then God will smile and send you a fish. But when you complain, you can't be serious, cuz He knows! By the end of the trip, of course, Mrs. Claus caught the most, AND the biggest! And by golly, the length grew too. The next day, while telling stories with other guests, "Debbie's" fish grew five inches! So imagine this fish by the time she gets home to tell the elves at the North Pole.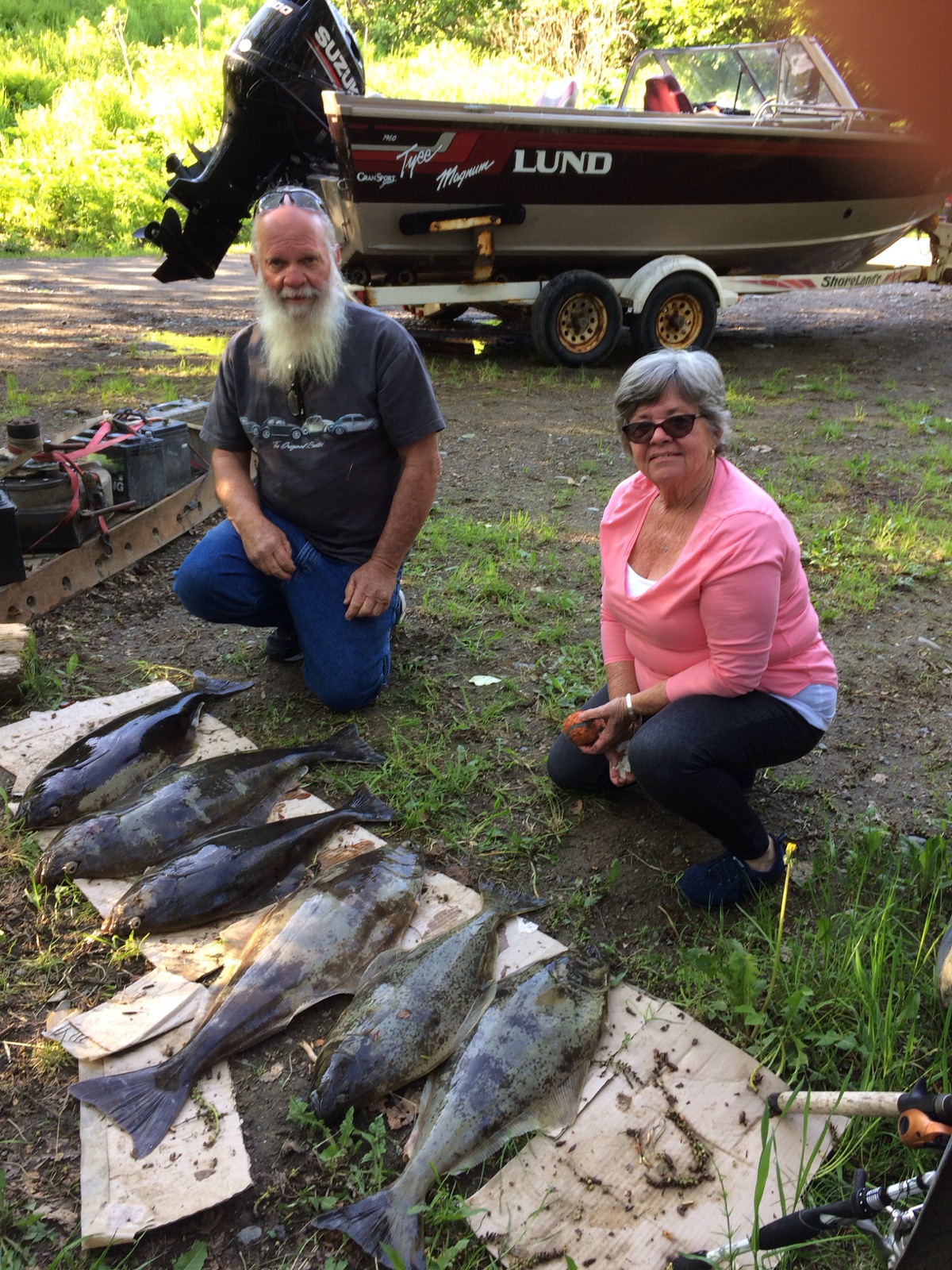 True to what we all believe, Mrs. Claus was a good helper. At times she showed up in the kitchen to clean and help serve breakfast. Heck, she even cooked me dinner the night we went fishing – when Maria was gone to Anchorage. Fresh halibut, fresh veggies, and entertainment too – In the form of Santa.
Once in a while, Mrs. Claus steps into the spotlight. She had a story or two about this – but for the most part, she just lets Santa be the center of attention that he is, and she handles it with grace.
You know what I think? I think Mr. and Mrs. Claus really needed a break. They made no mention of Christmas, toys, deliveries, elves, or even reindeer. Well, Maria and I understand. Sometime you just gotta "check out" from work for a little bit. Good for them.
We were sorry to see them go. They became a bit of a "fixture" around here. They made sure to invite us to visit them in Fort Meyers, Florida – when we go down there next winter to visit our parents. Again, yeah right? You think Santa and his Mrs. really have a place down there? I think it's more of their cover, but I'm probably gonna call them out on it just to prove it. Maybe I'm wrong. We'll see. Santa is supposed to be magic, you know…
Santa and I, with our last cup of coffee, just after he showed me his stone…
I was always raised to believe that Santa is really fast. You had to be quick and catch him, or else he will be gone. This was our Christmas Eve tradition: The Aunties would gather all of the children, take them up into the upper room, and we sang "Jingle Bells" and all other carols, with the window open, as loud as we could, to get Santa to stop at OUR house, ASAP already. Then when we heard "HOHOHO" downstairs, this meant our singing had worked, Santa had arrived, and we ran as fast we could, down the stairs, and up the driveway – trying to get just a glimpse. Once, I thought I saw him, I really did. I told "Dave" these stories, but he didn't budge – not one bit. He claimed to be completely ignorant.
The other 364 days of the year, Mr. and Mrs. Claus aren't really that fast. They hung around the house all morning, waiting for their Uber driver, but when they left, I had one more clue. I gazed from the doorway as Santa approached his ride – with a big white bag over his shoulder, and I know the bag was full of halibut – cuz I helped Santa prepare it. The first thing he did was reach down into his bag with a twinkle in his eye, gave out a big HO HO HO, and handed some of his prized fish to his Uber driver. He had enough stash to give presents all the way home.
Yup – I just know it really was him!