We all have our usual way of doing things; our usual ways of being.
Well, I have my usual ways of fishing for Halibut. But this last week, I had to improvise. Your see, mornings were much more windy than normal. Heck, even right here in the bay, we had 2-4 foot swells whitecapping by mid-morning. I spied a 200 foot container barge parked in the bay. I figured, what the heck – might as well hide behind it. For if I were to just anchor up in the open, I knew my anchor wouldn't hold. I knew I'd be bobbing and weaving all over the place as I rotated on my anchor. Here I am, snuggled up in the lee of a huge barge. Lets see if this works?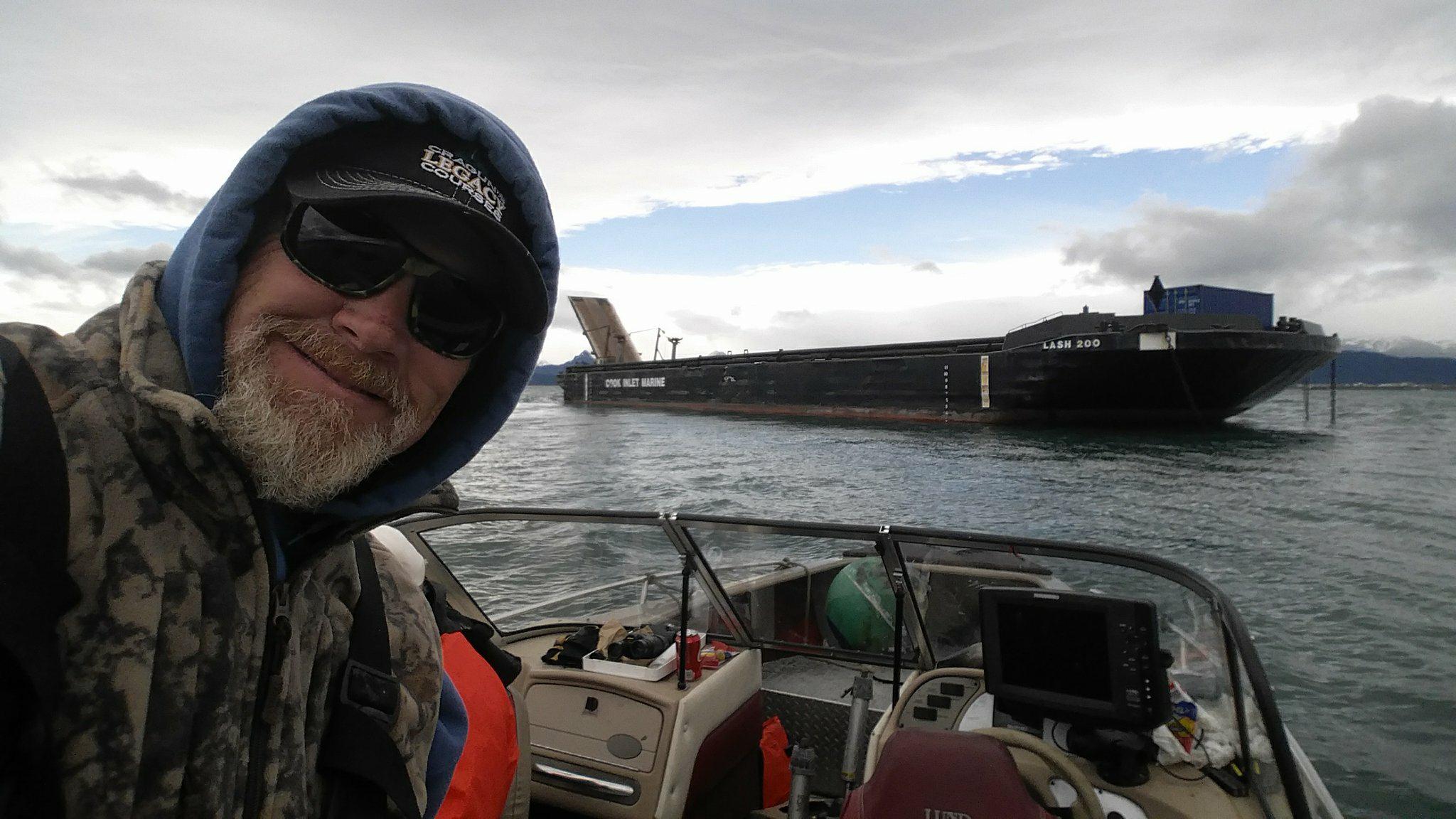 Guess what, it works!
Change is also in the air with flowers. My favorite is the Lupine, and they are in full bloom. It starts at the lowest elevation, which is down on the spit, and the bloom works its way up the hill. They bloomed last week on the spit. I noticed them this week in town. Soon, they will bloom up the hill where we live. Wherever they are, I follow them. I pick them, and keep fresh bouquets at the entrance to the house, in the kitchen, and on the deck picnic table. Love Lupines!
Here's something else that is new. Saturday night dinners. We've done it twice, and they have been a raving success. What we do is invite everyone who is staying with us on a given night (which has worked out to be Saturday thus far). We shoot for a full table of 8. Sometimes we get even more that spill over into the living room, or if it's nice outside, they eat out on the deck. Guests enjoy ALL YOU CAN EAT fresh halibut and salmon that I catch and clean, usually the day of the dinner, or sometimes the day before. Where else can you do that? Guests also get to partake of local vegetables from the farmers market, locally made beer and wine, and a fresh made dessert from Maria's kitchen – usually a blueberry pie raspberry/rhubarb – ala-mode, of course! Guests have been very satisfied. They don't have to drive. They have the best view in town. They get to meet and visit with people from all over the world. And, they get to hear stories from local residents – Maria and her good friend Myra – who is a great help!
So if you happen to be here on a Saturday night, ask if dinner is on, and come join us!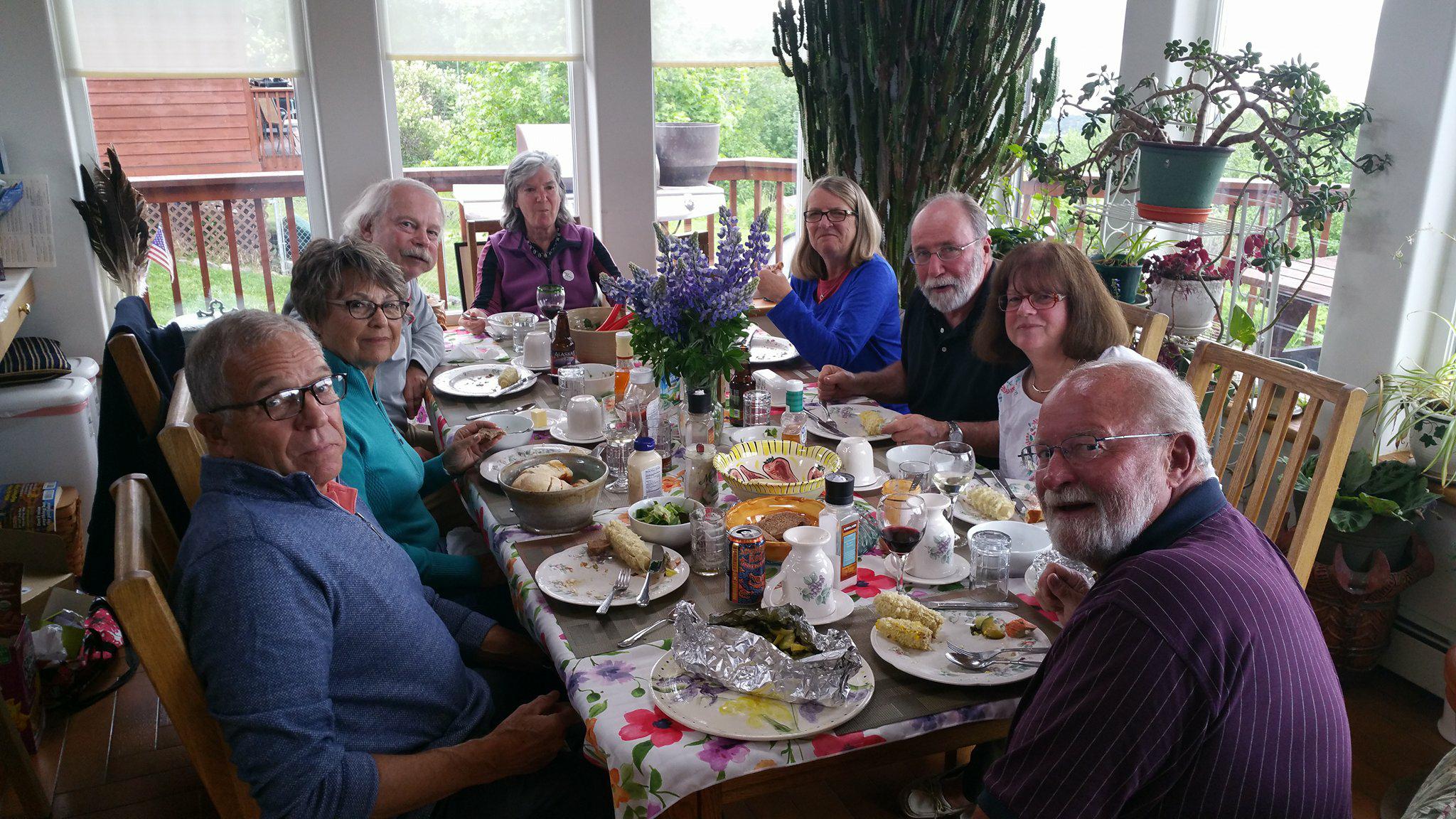 Last but not least, my boat! My friends from Minnesota would recognize it as a Lund Tyee – but it is morphing, little by little, every year. This spring, I put on a brand spanking new Suzuki 200 HP 4Stroke. Suzuki offers a discount to guides and captains, and apparently, I wasn't able to refuse! The innards of the boat are evolving as well. Wood and carpet just don't cut it in Alaska, and saltwater – where everything is about harvest, slime, blood, fish poop, and so on. I've replaced the floor and the sides with diamond plate aluminum. I even built a box platform on the back for fishing, storage, and fish cleaning. Really liking the efficiency of this – so good for snagging, sight fishing, and cleaning. I just park it on the hill next to the house, pull the plug, jump inside with my high pressure washer, start at the bow and wash it all back.
Enjoy the photos and watch for a post again soon!