Yes – it's a different world up here. Anchorage and Fairbanks, our big cities, are filled with all different minorities, who, if they are burning down their own neighborhoods and wreaking havoc, I certainly haven't heard about it. In fact, it is quite the opposite. The state is open. The locals (Alaska Residents) are having the time of their lives. Why? Because they actually like coming to places like Homer, and Seward, and everywhere in-between – to have fun on their weekends, and holidays – especially if they are not working. How do I know? A couple of Saturdays ago, Maria came to get me at Ted Stevens International Airport in Anchorage. On the way home, everything was bustling, and I LOVE IT! People were fishing all the rivers, all the public accesses were plugged full of vehicles, camping the beaches, dropping cash at the convenience stores, picking mushrooms, hiking, bear viewing, taking charters to fish halibut, and so forth. This is SO important for the economy of Alaska, on the Macro level, and so so important for small business at the more Micro level. Not to mention the general health and well-being of each and every individual, of which I am well aware being a mental health professional. What I can tell you is that this "shelter at home" order to isolate, this virus, this civil unrest, the political games, the being ruled by upper class elites – it all has taken an unprecedented toll in the form of a anxiety, depression, and personal issues – the likes of nothing we have ever seen. So what better way to combat this than to get out and live your lives in Freedom, the way things used to be, and HAVE SOME FUN!
NEWS ALERT! Alaska is 3x the size of Texas. It's massive! And though the average resident isn't too crazy about having tourists pour in, we, at Majestic View, ARE, and would love to have you. But it takes a certain kind of person to do that. That would be people who live in freedom, rather than fear, and have the right kind of job circumstances, disposable income, and family dynamics (that is, family who are not elderly or immune compromised) who can pull this off (those have a right to have extra fear if they wish). We have had a few of the brave types come here, and expect to have a few more – but more on that later.
Having just traveled, I can tell you just what to expect. First, if you are coming from the lower 48, airfare is dirt cheap. I personally flew from Minneapolis (yes, ground zero for rioting) to Anchorage, for a measly $144 for myself AND Sam Elliott. The airport was very quiet. Security was easy. There were 30 people on a Sun Country 737. That means we had a whole row to ourselves, got the trip done directly in less than six hours, and even caught a few winks laying down across three seats. There was no food service to minimize human contact – so flight attendants did safety checks and announcements – and spent the rest of their time playing on their phones. Delta and Sun Country fly direct from MSP. Others, like Alaska Air, take two legs and usually hub out of Seattle. Upon arrival in Anchorage, we stepped off the plane, and were greeted by a team of individuals who would have each and every passenger provide a declaration of intent. You either choose to go somewhere and quarantine yourself for 14 days, OR, you get a Covid test done within 72 hours. This is NOT policed or enforced, mind you; it is "on your honor." I got my Covid test done by walking up to the tent outside South Peninsula Hospital in Homer. A nurse took a little information, and swabbed both nostrils. It was uncomfortable; made me want to sneeze; made my eyes water – but contrary to what people say, it was not horrible. They did not penetrate brain or eyes or ears. No call back = good news in this case. I think a person could also get the Covid test right at the airport. As I said – residents were having a ball all along the 225 mile stretch from Anchorage to Homer. Though tired, I was smiling inside with approval and understanding.
About statistics here: Over the past 5 months, I think Alaska has had a total of 12 or 13 deaths for an area 3x the size of Texas and less than a million people. Though terrible for those people and their families – if you researched, you would find that this is one of the safest places you can possibly be. People who died – died because they were elderly, immune compromised, or of a different ethnicity which is statistically more vulnerable to the virus than the average Caucasian – like our Native Alaskans. Some had pre-existing conditions, and would have died anyway, and they were reported as having "died of Covid." Ok. Believe what you want. I think it is even lower than 13. Currently in AK, most cases are in Anchorage and Fairbanks – the higher population centers. Where we live, on the Kenai Peninsula (the size of a huge state in the lower 48) there is very little Covid. Homer has a couple of cases housed in a Senior Center – a resident and an employee or two. A have heard that there are a half dozen fishermen who came up with it from the lower 48, now quarantined on boats out on the sea. Most of these are strong young men who will simply get sick, then get better. Then they are "in the herd" of a massive amount of people, the majority actually, who got sick and got better. Also, a Russian Community far off the beaten path on the KP has it, but is locked down there a 45 minute drive north of the Sterling Highway. This is about all I have am aware of at this time.
Now for the fun part – the reason I wrote in the first place: to tell you about the fun people are having up here, and to promote business in Homer, and at Majestic View. Brian and Christina are a couple from Wisconsin. They actually booked short notice, AFTER Covid became a concern. They did their research, and found they COULD fly, COULD afford it, WEREN"T compromising anyone else, WERE going to be relatively safe and low risk, and best of all, had an attitude of fearlessness. I LOVE IT!!! So they came to Majestic View for three days, and had so much fun that they stayed for five. They went bear viewing with Sasquatch Air over to the Katmai Brown Bear Refuge on the other side of Cook Inlet. They went on a combo fishing and sight seeing adventure with yours truly – Captain Tim. They enjoyed the sights, scenery, wildlife, shopping, and dining in our lovely city of Homer. They enjoyed the spectacular view from their private deck at Majestic View, grilled their own fish, biked and hiked the area. They enjoyed the finest hospitality and breakfast in Homer, put on by my talented wife Maria. Sorry to have to leave, they already have plans to return in less than ten days – with more family who is coming to visit them (they are basing out of Anchorage for a month).
Please enjoy the pictures that Brian and Christina were kind enough to share re: their fun trip to Alaska, to Homer, and life at Majestic View. I will provide some dialogue to explain the photos. People from the lower 48 who like a vacation to a touristy place without having all the people (the kind of people who usually come here in May and September) – you can now experience the very same thing in July and August. Always remember: "This Could Be You At Majestic View." And for Alaska Residents – our most popular guests so far this year, Homer is as quiet as you are ever gonna see it. My wife Maria has special rates for our residents, who can come down to play without being overrun by a bazillion tourists. We have taken special precautions for safety – including special measures to sanitize surfaces, changing out of all bedding, towels, and even pillows after each guest, four spaces with private entry, breakfast reservations so that your party is the only ones at the table, and more. Come! Have a cozy stay, a good night sleep, and the best breakfast you can get anywhere – guaranteed!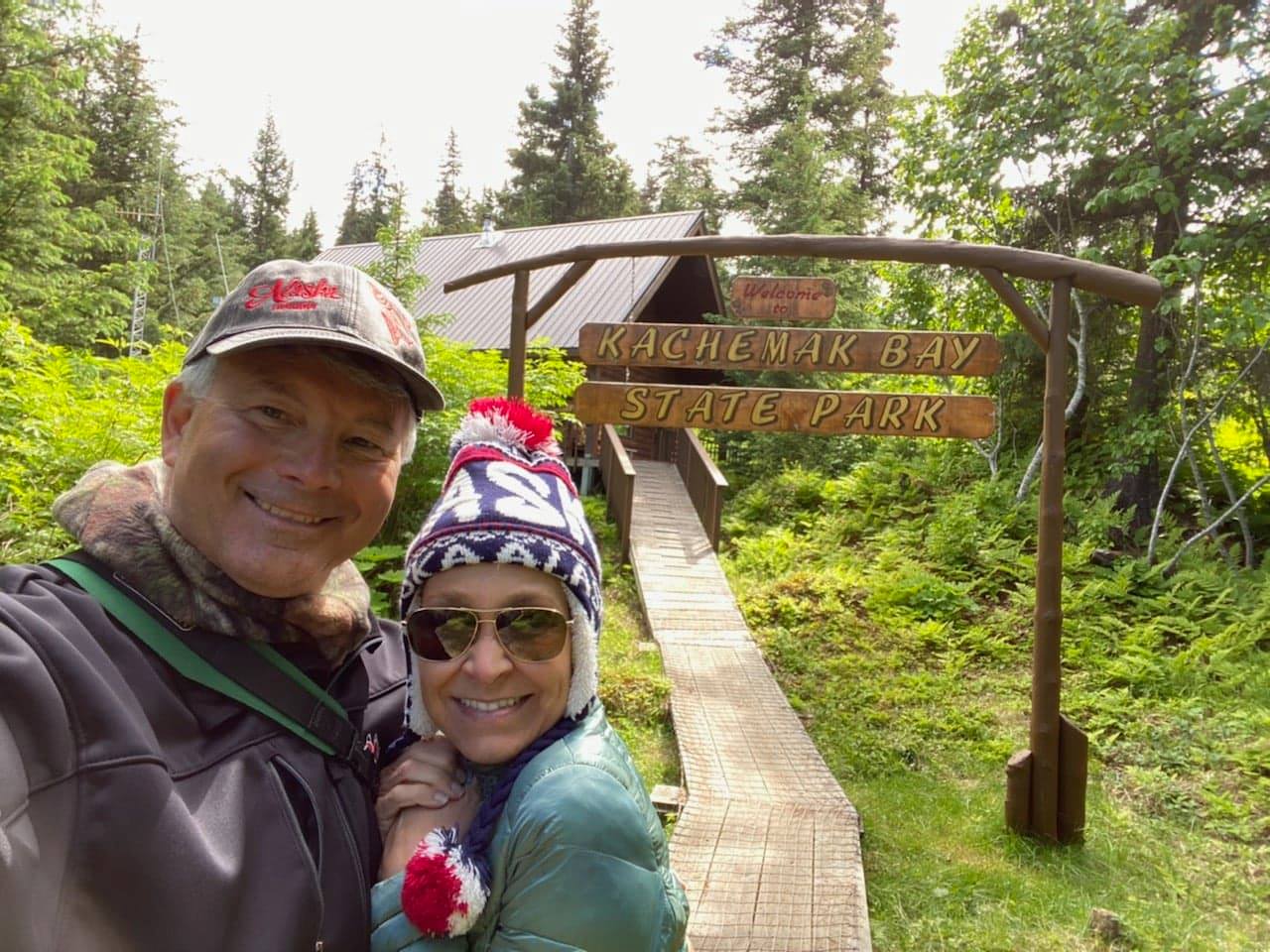 Meet Brian and Christina – midway through a day-long trip on the boat. I know a special place to stretch the legs, and get a potty break.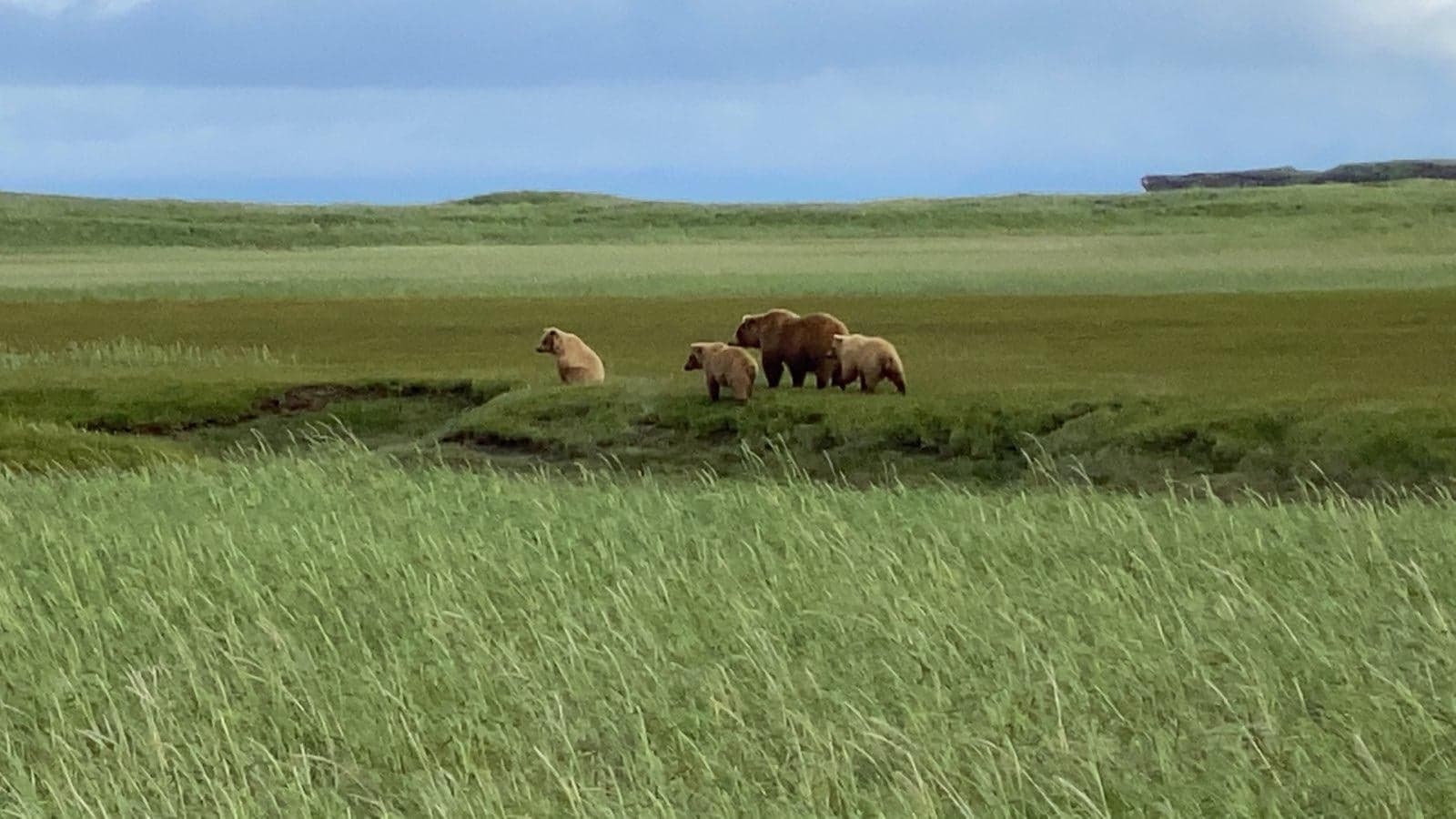 A momma brown bear with three young cubs – last years "litter." She is a good momma, who alternates teaching her younguns how to eat grasses and sedges – then switches to combing the beach for anything edible, but mostly clams – which they dig for. Guides tell us that the momma bears like to hang around humans because boars are less likely to harass and attack, giving her cubs a better chance at survival. Boars know that if he can overcome momma and kill her cubs, then she will come right back into heat, and then he can breed her and pass on his genes. I think he is more interested in the breeding part myself, and exhibiting his dominance. He doesn't "know" about genes. It's a cruel world out there folks, but quite interesting how it works!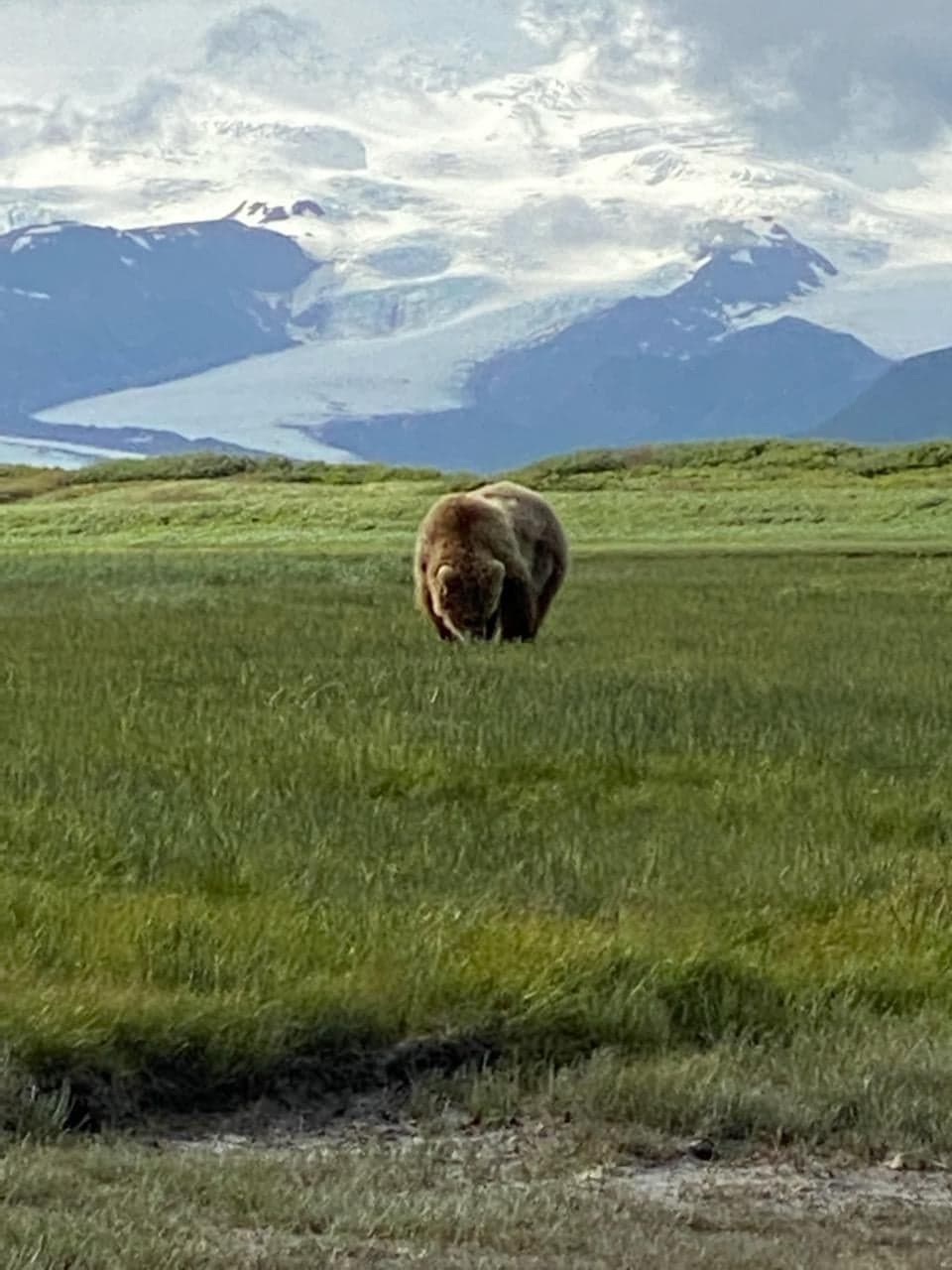 This solitary bear is a wonderful creature all by himself, but just look at the place he calls "home!" He is dining on grass, biding his time while he waits for the salmon to arrive. Get yourself "on his line of travel" and he will walk within mere feet of you. It is a very strange feeling – knowing he could just decide to kill you at any moment, but alas, you are not on the menu, and that's a good thing!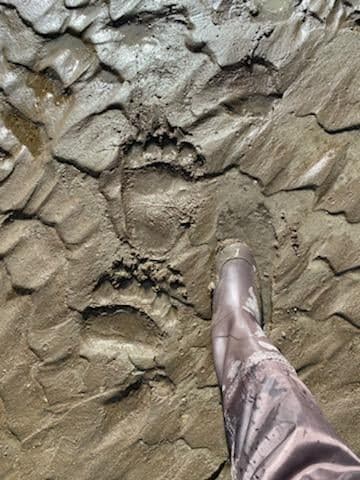 Brown bear tracks are both impressive and fascinating to me; these are from a small bear – so imagine those of a big one!
Before or after, it doesn't matter. Who doesn't enjoy a great picnic at Sasquatch Air headquarters? I'm feeling hungry right now… 🙂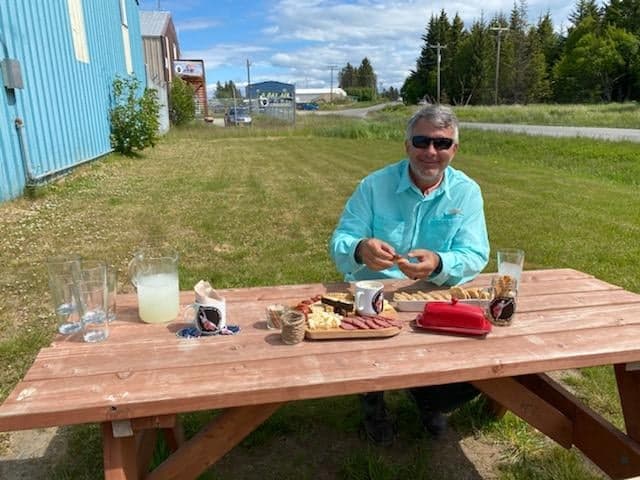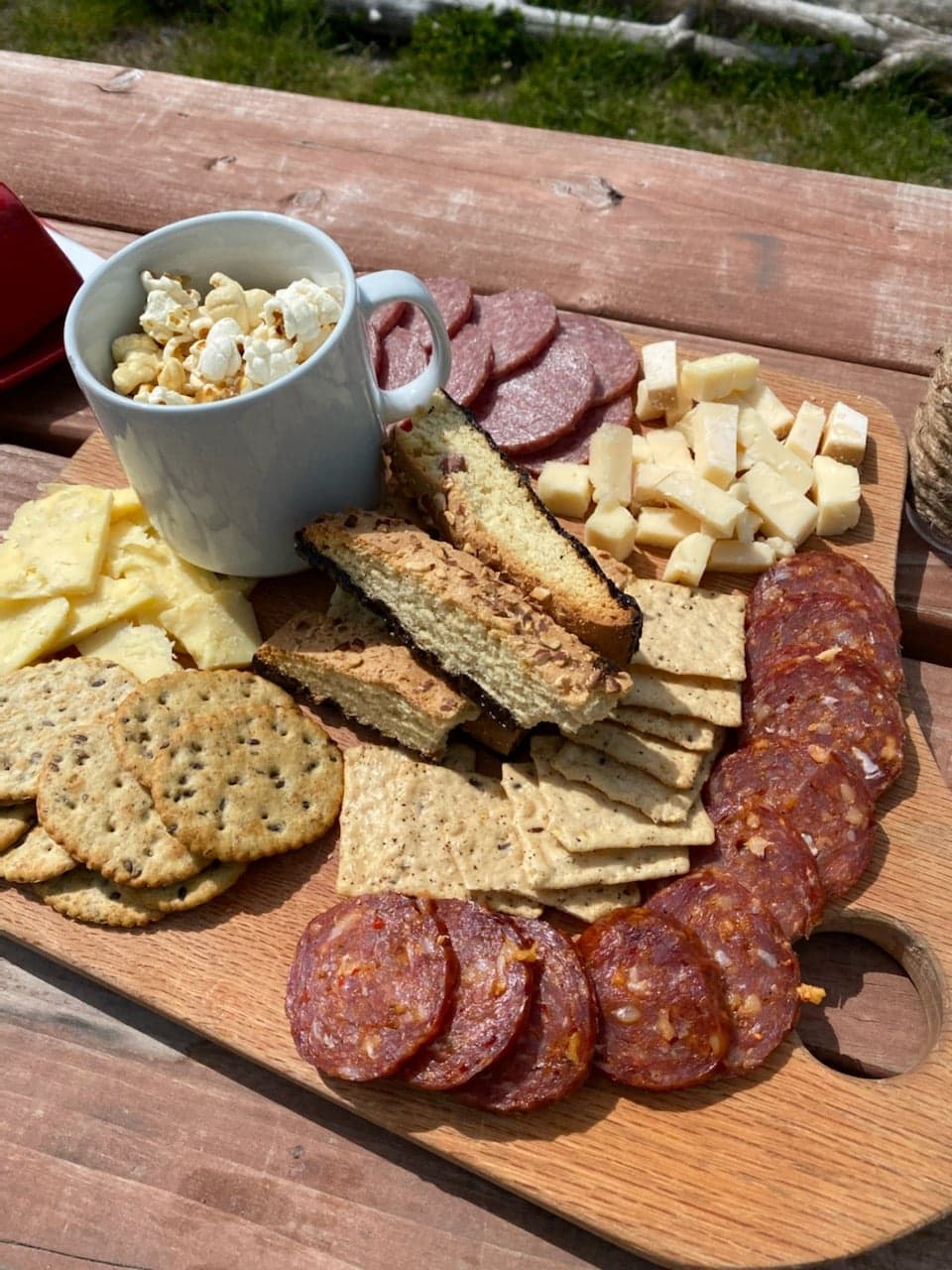 Ok. Lets move on to fishing. It was fathers day. Brian wanted to fish, and Christina knew it. Christina didn't want to spend the whole day fishing and Brian knew it. So we elected to just go for some quick action. This involves going out at slack tide, and dropping jigs and twister tails over the side of the boat to catch cod, pollock, irish lord, and flounder. The action can be fast and furious – and it wasn't long before Christina went from "I'm not interested in fishing" to "I think I might just give this a try." Soon she was hooting and hollering, and the entertainment factor went up, WAY UP! As usually happens, beginner women move in and take over and catch the biggest and the most. They make the most noise. They attract the most attention. And if their husbands are smart, they love it! I think Brian did. Look at the pictures and you tell me..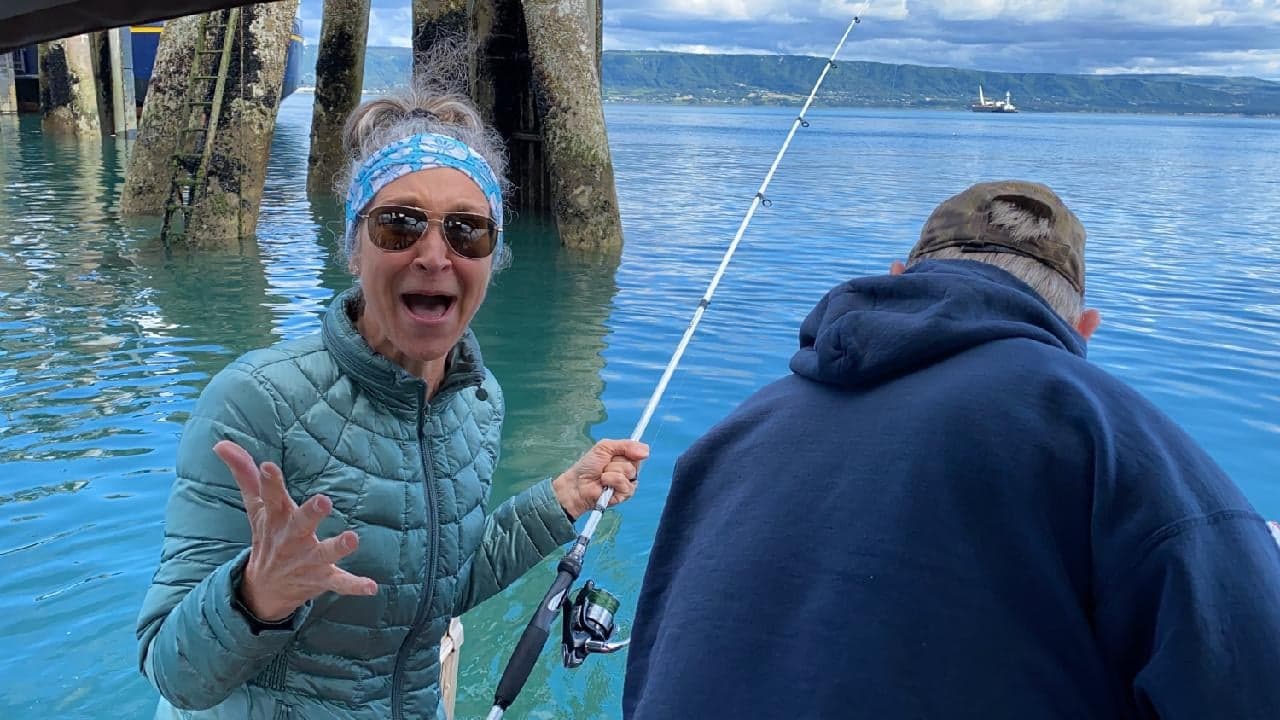 Incredulous. "I caught one. A huge one. Did you see that???" Alaskan Pollock don't get too much bigger than this one.
I was so happy that my wife Maria got to have a much needed day off, and break from the work stress. She and Christina and Brian hauled them in one after another for about 90 minutes. Hey, why didn't I get any pictures of Brian with fish? These girls are up to something.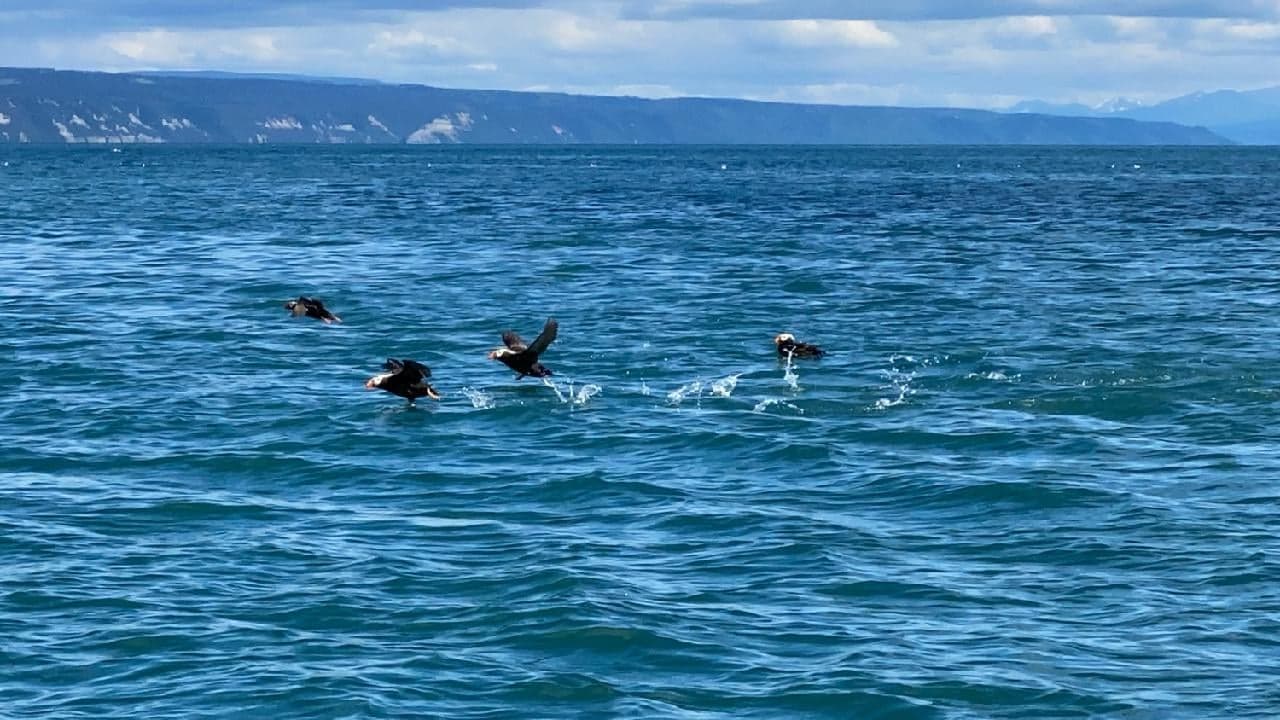 On to Gull Island, where the goofy half penguin/half toucan await – the Tufted Puffin. My favorite "Homer Bird" by far. Sometimes they are standing up on the island – where the grass meets the rock, protecting their burrows where they raise young. Today they were all out socializing on the water, diving for the occasional minnow to eat, or bring to their mate like a good mate does.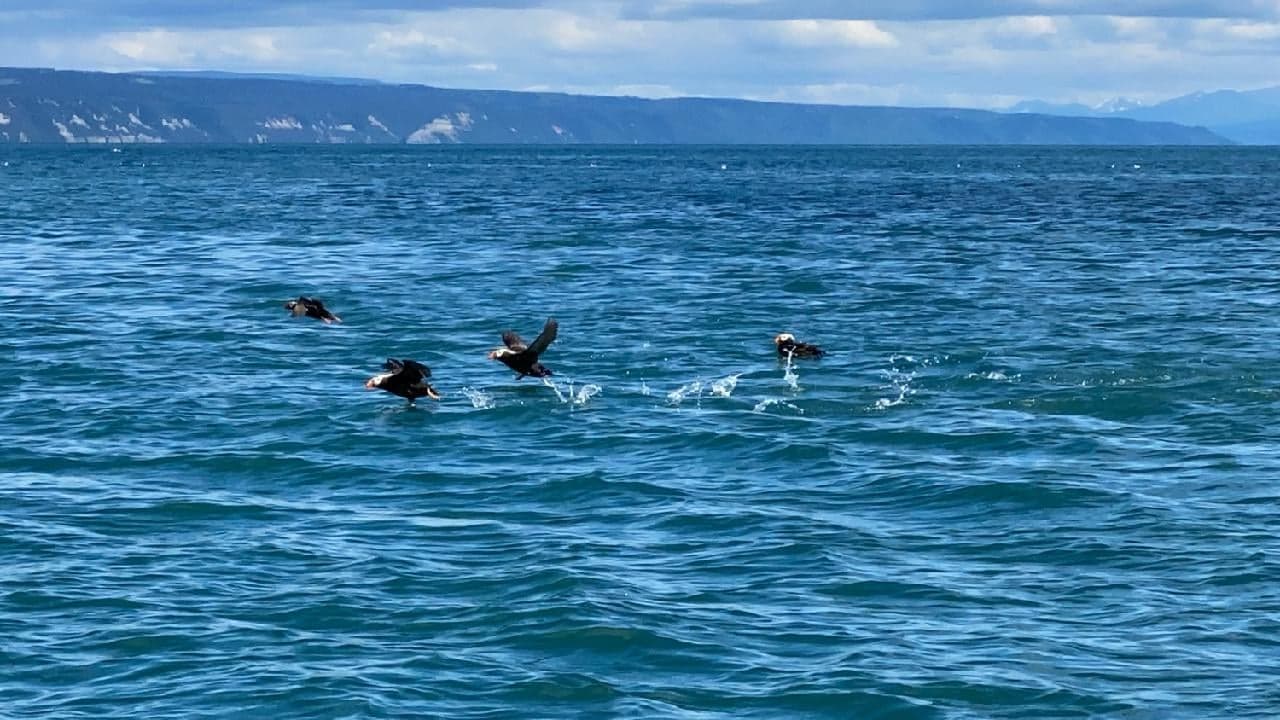 Common Murres, Kittiwakes, and Herring Gulls inhabit Gull Island, where they nest in colonies by the thousands. Bald eagles, both mature and immature, feast on their eggs and young while waiting for salmon to arrive. No matter – there is always plenty that come back each year. Guillemots, Shorebirds, and Oystercatchers also inhabit the island. Sea Otters and Harbor Seals are regular sightings on my tours. Bears, whales, orcas are also seen regularly – though not every trip. And you can never go wrong on the scenery. It is all around you, all the time.
Meanwhile, back at the ranch, we are living our lives. After a days work, Maria has her gal-pals over, to sit around the fire and enjoy a meal, a beverage, a snack, the view, the dogs, etc. I'm doing my thing. Working on my truck. The boat. The yard. Hanging with the dogs. Going out on the bay fishing with my pals getting some fresh halibut for dinner – which we eat 3-4 nights a week. As you can see, life is moving on here. Miss it? Then come visit!