What really is "normal" anyway? We discuss this all the time in therapy sessions (I can't help but think like a therapist, because I am one), but what about life after Covid?
I guess when I say "normal", I mean – what it used to be like in 2019. Minus the Alaska forest fires, of course!
Back then, we saw well over a thousand people come and stay with us each and every summer. From June 1 through August 31 – we were full-up more often than not. Business was booming man! Both the B and B part, and the Adventure Tours too.
Not surprisingly, 2020 was just plain weird. Only the most brave and tenacious guests showed up. Business was almost nonexistent for me, and reservations didn't happen at the normal pace, or, cancellations happened at an alarming rate. Last year was a bust, but we did our best, and hoped 2021 would turn things around.
First of all, it's good to be back with my wife Maria again!
This May was much better than last May – that's for sure. Late May and early June has seen us with a "full house" more than once, and somebody is alway here renting a space, if not two or three parties. By mid-June, we will fill up and stay (mostly) that way well into August.
June 1 found me celebrating my 56th birthday, and one that I wasn't sure I was going to live to see. This winter was a rough one, with a surgery gone bad. Complications left my innards to go septic, and it took a month in the hospital to bring me back to life. I'm working two part time jobs now, and gaining on my energy and stamina. Looking forward to a busy season and some very special hunting trips this fall. Here – Maria feeds me some favorite treats: steak, cake and ice-cream.
Later that day, I went halibut fishing. The halibut snubbed me, but I did catch this really big cod.
Maria and I are both trying to "adjust back to the way we were" – the busy-ness I mean. It can be quite demanding catering to guests in your home – when the only time you really have to yourself is when you retire to your bedroom from 11 pm till 6 am. Add all the details of shopping, cooking, checkins, special requests, cleanup and preparations, training help, etc……. you get the picture. Neither of us has really done this for two years, but we are being forced to figure out how to get back to it. Maybe we became slackers a little bit? Naw… Not Maria!
So far this season, we have had guests of all ages – from 8 to 88. Maria is busy being the "Queen of Hospitality", making the house comfortable, and cooking the most delicious breakfasts. I've had our guests out on some great adventures so far – where we see the best scenery, sea otters bald eagles, puffins, seals, sea lions, mountain goats, and the occasional black bear.
All the restaurants and shops are going wide open. Planes are flying to Anchorage and Fairbanks from all over the lower 48, and are packed pretty full. So are the state ferry boats, and some of the "group tour vessels" have gotten back to work – like the Kachemak (Fast) Ferry, and the Rainbow Connection. I can only think of one major thing that is missing and that is the cruise ships.
Lots of people are fishing halibut and king salmon. Charters are thrilled to have their boats full again, the local Alaskans are coming to Homer to fish – making our city launch site super busy. Town is rocking too – with the vast majority of the businesses wide open for business. A couple are still playing it safe – which is their prerogative. I will have to gather some photos from our guests, but right now – they are catching King Salmon and Halibut.
If you read this, and are thinking of coming to AK – Sun Country would be my number one pick for flights that are cheap and often direct, depending on your city of departure. I use them often out of MSP. Delta is great too – but the most expensive. Alaska Air offers tons of options, but usually has you stopping in Seattle.
The hard part right now is FINDING A RENTAL CAR! Seems all the rental agencies let their fleet of vehicles go in 2020, and didn't get them back, or plan too well for 2021. At first, we thought the problem would work itself out, but with the Canadian Border closed – they can only ship so many vehicles by water, and it is slow going. It has even gotten to the point of us having a few people cancel their plans – simply because they couldn't find a rental car, or because they were being price-gouged.
Never fear! Maria decided to get an older car to drive around for the summer. Meanwhile, she is renting out her 2015 Subaru Outback, mostly reserved for any of our guests who are having trouble finding a vehicle to rent. I think there will be some stipulations – like keeping it on the peninsula, but it will be much more affordable than what what they are showing on Turo.com (like an "Air B&B for vehicles"), which is $200-300 per day for most vehicles. We figure that if we can save some reservations from cancellations by renting Maria's Subaru, and make a little extra on the side – it will be worth it for sure. Speak with Maria directly about this at 907-399-3063.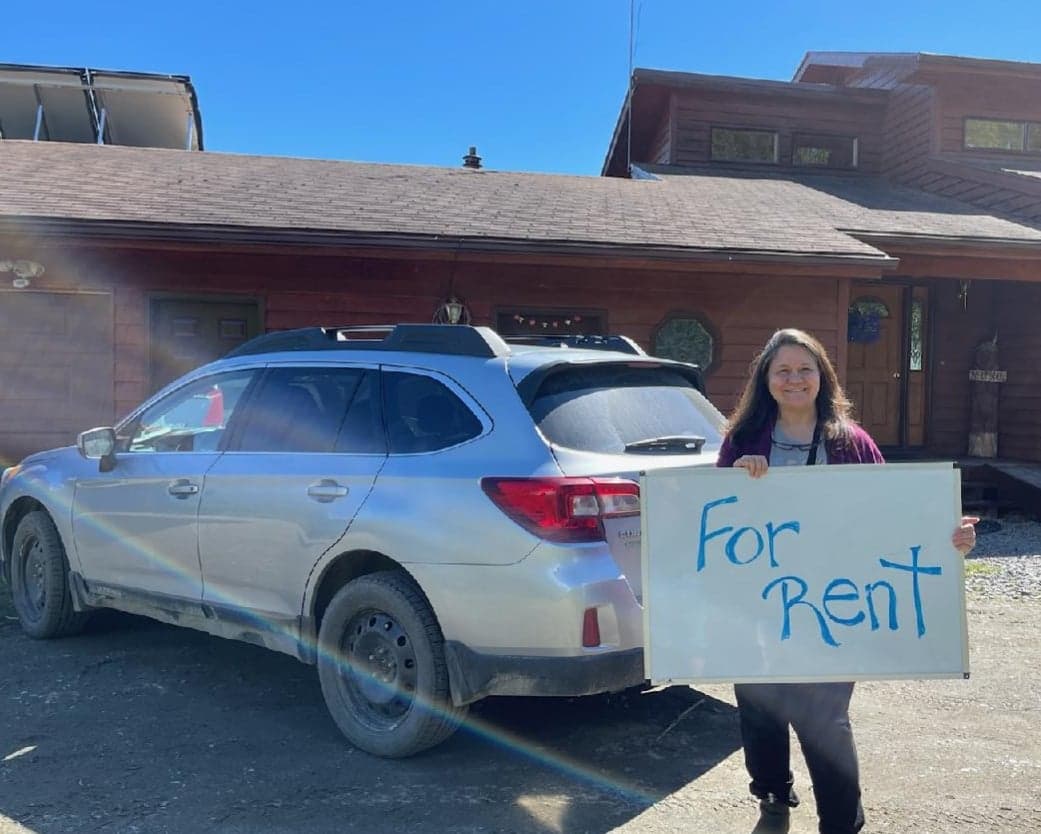 Ravn Air is back in business, offering service from Anchorage to Homer – and last week they had a special for $109, which is very doable. I'm gonna take advantage of it in July when I return to Minnesota for the birth of our second granddaughter. Go Lauren!
Today is Friday, and we are full up with 7 rooms. Our guests are enjoying visiting in the common areas, and the breakfast table is full; it seats 8, and it takes more than one round to feed everyone. Feels pretty close to "back to normal" to me.
Brody and Blue are beyond middle-aged man dogs. When they go for a good run, they come back limping and gimping – kind of like me. Sam is the same guy – hasn't slowed a bit, and is definitely ball OCD. We have a new Gordon Setter pup named "Sofia Lauren'" who has quickly become Sam's leading lady. When she is two, we plan to have a litter of Gordon pups for sale. Until then, we need to keep her healthy and alive, which is a job – with three ornery males around. Just this morning, we had to take her to the vet for a huge blood blister… the result of a wrestling match with Sam Elliott (most likely), but I will say, she had it coming as she is a non-stop pest – chewing on his long droopy ears. He eventually gets tired of it, and goes after her, and apparently we gave him a little too much encouragement!
Yesterday marked our first sighting of a newborn moose in the 'hood. This one was likely about 24 hours old, and just up the road from our driveway. We expect to see this one, and others, in our yard in the very near future.
Bill, one of our guests, got this fine picture of a flock of Harlequin Ducks – which don't normally hold still long enough to let you get close enough for a good photo. These however, did – as did another flock not far away. Just look at all of those beautiful drakes, dressed up in their Sunday best!
Colton is a friend of the family, and came up from Minnesota to work for the summer. He is my "right hand man" for work around the property, and is helping Maria with all aspects of running the B and B. Later this summer, he will join one of Maria's boys commercial fishing sockeye salmon in Bristol Bay. What an opportunity for a young man! Meanwhile, we work fast to get our chores done, and then go fishing and hunting as much as we have energy for. Living off the land is commonplace here in Alaska, and fresh black bear and halibut have been on the menu regularly, as have mountain goat and salmon.
Speaking of Maria's boys, all three have prepared their boats, and are currently making the trek up to Bristol Bay for a busy summer of fishing sockeyes. I'm always interested in, and amazed by what they can do. A couple of these boats were built from scratch!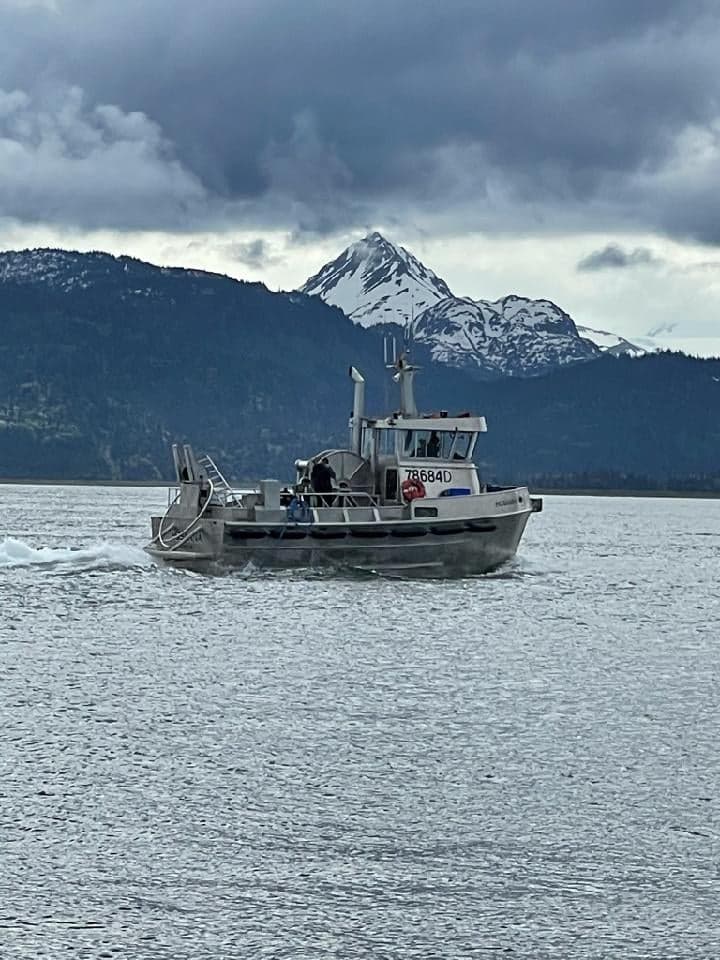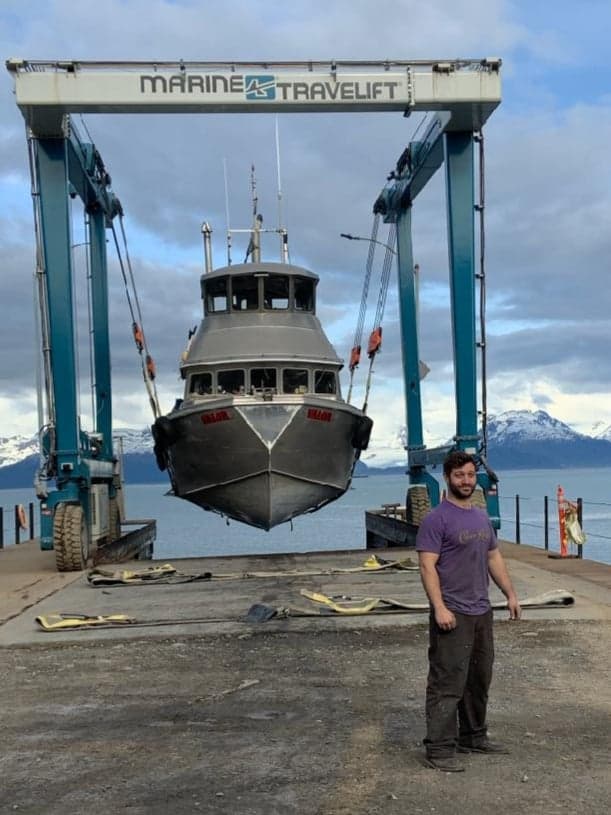 The schedule looks really full from Mid-June to Mid-August, but we definitely have some openings left. If you have any inkling of coming to Alaska, make sure and call Maria directly for reservations, traveling recommendations or car rental. We have heard it over and over – that when guests travel all over Alaska, they find that they wish they had more time to spend in Homer. It really is difficult to beat this view, and this place that has so much to do.
Majestic View Bed and Breakfast (Maria) 907-399-3063
Majestic View Adventures (Tim) 218-232-6067